Workers' compensation insurance, (a.ka. worker's comp or workman's comp), is the most overlooked small business insurance coverage.
No matter how safe your business is, accidents can happen at the workplace and employees can fall sick while working. Workers' compensation insurance provides coverage for both the sustainability of the business employer and the health of the employee.
What is the Workers' Comp
Workers comp is insurance that offers essential benefits to employees who get injured or sick while they are on the job. These benefits include medical bills, lost wages, funeral expenses for the family if death happens on the job, and rehabilitation. Every business with one or more employees needs to have workers comp insurance coverage.
Which Businesses Need Workers Compensation Insurance
Almost all types of small businesses require this insurance policy if they hire an employee. This policy provides security related to medical expenses and employee lawsuits. Workers' comp can help a business pay for its sick employee if they need medical treatment or an injured employee needs to take a break.
Small businesses carry workers' comp because:
State laws require workers' comp coverage.
It provides benefits in terms of medical bills and lost wages.
Employee lawsuit costs due to a work injury are also covered in most policies.
Types of Workers' Comp Benefits
Workers' compensation insurance covers this coverage assistance for employees:
1) Medical Care
If an employee gets sick or injured while performing his job, the workers' comp insurance takes care of the medical treatment by paying for:
Medicine bills
Doctor Visits
Hospital Expenses
Therapy
Recovery Costs
For example, If a painter gets an injury while working and breaks his arm, the workers' comp policy will pay his medical bills, doctor's appointments, and physical recovery.
2) Disability Benefits
An on-the-job injury can leave an employee disabled, and workers' comp insurance benefits can provide them disability benefits depending on the disability category.
Temporary total disability: This type of disability means that the ailing employee can not come to work and will return after some time.
Temporary partial disability: An employee can keep coming to the job but work for limited days until he is fully recovered from partial disability.
Permanent total disability: An employee is permanently disabled to work and can never return at full capacity.
Permanent partial disability: An employee can join the workplace after injury but the working capacity will never be the same.
3) Rehabilitation
Workers' comp provides assistance to employees in case they need medical therapy or rehabilitation services. They can learn new skills and get training while being disabled. A vocational counselor is also assigned to help them find new training and certifications.
4) Death and Funeral Expenses
Worker's compensation provides benefits to the family of an employee in the event of a death due to work-related illness. These benefits include death and funeral expenses as well as lost wages. Every state offers different coverage plans for these expenses. Usually, close family members of the departed employee like parents, kids, and spouses can receive the workers' comp benefits.
5) Lost Wages
If an employee needs time off to recover from illness, workers' comp benefits provide financial assistance for lost wages. If an employee dies while working on-the-job, the immediate family receives the lost wages.
Why is Workers' Comp Essential?
In case of a serious work injury, a business faces financial constraints. Workers' compensation insurance helps a business get out of difficult situations if they can't afford to pay medical bills. No matter how small or big a treatment is, this policy saves both the employees and the business.
Workers' comp covers employee lawsuits
Many states have workers' comp policies that provide employer's liability insurance to protect against a lawsuit case if an employee claims negligence for avoiding a workplace accident. The insurance company bears the cost of Attorney, Court, and Settlements.
Workers' comp covers lethal accidents
Workers' compensation provides financial support in the event of death on work. This includes paying funeral and burial costs for the employee's family in case of a lethal job accident. Workers' comp policies also include monetary assistance for the employee's family.
Workers' comp helps cover COVID-19 employees
Workers' comp insurance offers benefits to employees from workplace injuries and sickness. This policy will be applicable if an employee contracts coronavirus while on duty at the workplace.
Workers' comp insurance doesn't apply on:
Drug injuries
Injuries after layoff
Injuries from business rules violation
Income for a replacement employee
Private contractor injuries *
*NOTE: Depending on what state you're working in, there are different rule governing worker's compensation insurance and independent contractors.
How much does workers' compensation cost?
There are five main factors which influence workers' compensation costs:
1) Location
The workers' compensation depends on the location of your business as the state regulates this policy. The workers' compensation laws vary with every state and the insurance cost will be decided by the state where the work is done.
2) Employee's Type of Work
The National Council on Compensation Insurance (NCCI) defines the class codes to describe the employee's type of job. The insurers use these class codes to determine how much workers comp cost a business will pay. High-risk jobs may provide higher workers' compensation costs.
3) Payroll
Payroll is another factor on which workers' comp cost depends. Your annual payroll must be reported accurately to determine the workers' comp insurance rate. The insurers need your projected payroll to calculate the estimated premium. Payroll involves some other factors:
Bonus
Overtime
Paid leaves
Meals or travel
Commissions
Retirement Plans
Workers' comp audit
The business owner provides the estimated payroll at the start of the insurance policy which is compared to the annual payroll at the end of the policy period through workers' comp audit. This is a verification for the kind of work the business performs.
4) History of Claims
Workers' comp insurance rate also depends on history claims. The insurers use 'Experience Modification Rate (EMR)' or Experience Mod to determine the workers' comp insurance rate.
An EMR more than 1.0 will result in a higher compensation rate and an EMR less than 1.0 will decrease costs.
5) Carrier
Depending on which state you're working in, the insurance carrier you choose to work with for your worker's comp insurance can play a significant role in how much you pay for worker's comp.
Competitive states allow carriers to set their own worker's comp pricing which means working with an experienced worker's comp agent is paramount to keeping costs low.
RogueRisk365®
Reducing Your Insurance Premiums Is Only The Beginning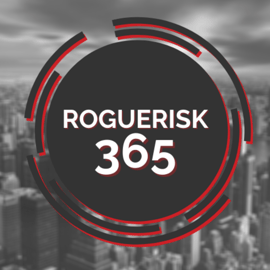 Our proprietary, RogueRisk365® program puts you in a position to "Win" the insurance game.
By focusing not just on reducing insurance premiums, but Total Cost of Risk, our clients create a sustainable safety culture that cuts costs and frees up cash flow that belongs in their bank account, not with an insurance company. Here are a few of our services:
Experience Mod Audit
Market Analysis & Placement
Premium Audit Review
24/7 HR Hotline
Handbook & Document Building
e-Learning Platform
24/7 Injury Nurse Triage Hotline
How to Calculate Workers' Compensation?
The amount paid for workers' compensation is a fixed cost for each $100 of the company's payroll. Your premium is calculated by the work nature that your employees do, experience modification rate (history of claims), and your annual payroll.
The formula to calculate workers' compensation insurance cost is as follows:
Premium = (Payroll/$100) x Class Code Rate x Experience Modification Rate
Some small businesses listed on the National Council on Compensation Insurance (NCCI) that show different business classification:
| | | | | | |
| --- | --- | --- | --- | --- | --- |
| Description | Code | Rate/$100 | Yearly Pay | Price/employee | Admin Fee |
| Clerical | 8810 | $0.12 | $28000 | $33.60 | $250 |
| Landscape | 0042 | $6.94 | $36000 | $2,498.40 | $250 |
| Retail | 8017 | $1.33 | $30000 | $399 | $250 |
| Medical | 8832 | $0.30 | $40000 | $120 | $250 |
| Restaurant | 9082 | $1.50 | $30000 | $450 | $250 |
| Painter | 5474 | $8.99 | $32000 | $2876.80 | $250 |
How to Calculate Workers' Compensation Cost per Employee
The insurer makes an audit after you get the policy to make sure that the cost you are paying is correct depending on the number of employees your business has and the kind of work they do.
The workers' comp cost for an employee is calculated by dividing payroll by 100 and multiplying the result by workers' compensation insurance cost.
A simple formula to calculate the workers' compensation cost per employee:
(Annual Employee Payroll/100) x Workers' Comp Insurance Rate = Estimated Workers' Compensation Cost
Workers' Comp Rate Bureaus
The state regulates workers' compensation, hence each state has its laws and regulations. Following bureaus determine the rates:
The National Council on Compensation Insurance (NCCI)
State-regulated rating bureau
An independent state rating bureau
How Rates are determined
The rating bureau is responsible to decide the cost of workers' compensation insurance for all kinds of businesses. It collects and performs analysis of the workers' compensation claims for work injuries and sickness. This data represents the types of claims and the payments involved for all claims.
Workers' Comp Rate by State
Every state defines different requirements and regulations for workers' compensation insurance. In some states, small businesses do not need to get workers' comp insurance if they have fewer employees.
Business operators in Alaska can buy coverage if they have a minimum of one employee. In Alabama, businesses must have five employees or more to get workers' comp insurance. Some states make exemptions for employers to get coverage. Business operators and sole traders in New York do not require workers' comp insurance coverage.
The average business pays 45 cents/hour for workers' comp, according to the United States Bureau of Labor Statistics. Workers' comp insurance rates range between 7 cents per $100 to $80 per $100 of annual payroll.
Workers' comp insurance costs are $0.57 in Texas, $2.27 in Alaska per $100 of total payroll. The NASI data 2018 reports that these amounts are the average employer's rate for workers' compensation.
The National Academy of Social Insurance reports data for the states with the most expensive and least expensive workers' comp rates.
States that have the most expensive workers' comp rates
Alaska = $2.27
Montana = $2.01
California = $1.83
South Carolina = $1.71
Wyoming = $1.70
States with the least expensive workers' comp rates
District of Columbia = 51 cents
Texas = 54 cents
Ohio = 67 cents
Massachusetts = 73 cents
Arkansas and Michigan = 74 cents
How to get Workers' Comp Insurance
Workers' comp is important business insurance and most states consider it a requirement. Workers' compensation laws differ with every state that decides the coverage criteria for businesses.
Click here to get a worker's comp quote today.
These are the workers' compensation insurance providers:
Workers' comp insurance by State:
If you can not buy insurance from a private company, the state ensures that your employees get coverage.
Workers' comp insurance by private companies:
Private companies run under the states but they have different coverage costs and insurance rules. Getting an insurance policy from a private company may be a good experience in terms of prices and customer service.
READ THIS: What is the Best Workers Comp Company?
Competitive workers' comp insurance by State:
This is when the state and private companies compete for insurance customers. The state provides coverage from a private company and a state-funded program.
Monopolistic workers' comp by State:
The state makes it mandatory for businesses in Ohio, Washington, or North Dakota to get insurance coverage through a state-funded program.
Workers' comp through an agent or a broker
Three ways to buy workers' compensation insurance:
From a company agent
Independent Agent (like Rogue Risk)
Captive Agent
An agent works for different insurance companies and sells their policies. It is easier to deal personally with a broker or an agent. A broker gets prices from different insurers and helps you decide on better coverage for your company.
Getting a quote for the workers' comp insurance is a simple process.
When does workers' comp start paying?
When considering "How much is worker's comp?" always remember what you get in return, sustainability for your business after employee injury.
Workers' comp benefits start immediately in some cases. The employer has to pay medical bills when an injury occurs during the job even if the workers' compensation claim is not approved. When the claim is accepted, the employee can receive all other workers' comp benefits.
Medical benefits do not need workers' comp claim and the business employer, insurance company, or the state has to pay the medical bills immediately before the approval of the workers' comp claim. In some states, the employers have to pay the medical expenses even if the workers' compensation claim is not accepted.
Non-medical benefits that include temporary disability, permanent disability benefits, and other workers' comp benefits start only when the insurance claim has been accepted. In case a claim is rejected, an employee can appeal.
The benefits will start after the appeal is accepted. The employee must provide a certifying form from the doctor to be eligible for temporary disability payments. These benefits will stop when the doctor suggests that the employee is physically able to start working.
Finding the right Workers' Compensation Insurance for your Business
Many factors have to be considered before buying workers' compensation insurance according to state laws and regulations.
Working with an experienced insurance agent helps protect your business from undue loss and expense after an employee injury.
It is crucial to find the right option for workers' compensation insurance to cover your business.
The best insurance coverage offers the most suitable premium for your business no matter if you are a startup or an established operation.
This is where we come in at Rogue Risk.
We're workers compensation specialists and can help you navigate market and workforce changes to make sure you have the coverage you without being overcharged.
You can start with a free Workers Comp Experience Mod Audit, or you can use the options below to get a quote today!
You can call or text us at 518.960.6600
I look forward to introducing you to a new way of viewing your insurance program.
Thank you,
Ryan Hanley